VILLAS LISTED ON THIS PAGE ARE
RECOMMENDED BY
owners of www.everythingsxm.com
Where To Stay in St. Maarten / St. Martin
CONSIDER A VILLA: SCROLL DOWN!
This page includes hotels, villas, timeshare apartments, and more.
If you're enrolled as a student at the American University of the Caribbean (AUC) and you need accommodations, see the bottom of this page.
---
Rent A Villa Through One Of Our Sponsors:

Or Choose One of These:
Oyster Bay View Villa, Oyster Pond

Club Fantastico Naturist Resort Near Orient Beach (Naturist Villa Accommodations)

---
Where To Stay In Cupecoy
CUPECOY: Where to stay. . . see our favorite hotel / condo choice, Summit Resort. It's quiet, romantic, beautiful, comfortable, close to everything, and sensibly priced. Very well managed, too -- in fact if you tell them you saw them on our site, and you are a JMB member, you get a serious discount on your rate. See www.everythingsxm.com/secret for details. Summit now accepts online reservations: to reserve, click the link. Don't forget to tell them you came from the JMB website. (More hotel info, links to villas, and links to timeshare rentals are below.)
---
Consider a Villa: It's Less Than You Think
Villas are a great, sensible alternative particularly if you're traveling with other couples or an extended family. They offer many amenities, more privacy, none of the hassles you encounter at some hotels, and a price that's less than you might imagine.
TOP-RATED VILLAS:
We have several recommendations, in different locations across the island:
VistaRoyale at Monte Vista in Point Blanche, just outside Philipsburg at the most southerly point of the island, is an extraordinary vacation rental. It offers spectacular panoramic views overlooking Great Bay, Philipsburg and the Caribbean Sea and Atlantic Ocean, and has a private pool for your exclusive use. It can be rented with one bedroom for two guests or two bedrooms for four guests and has all the amenities including free wireless internet access and free local telephone. Recently renovated. Gated area. For new photos and a 360° video tour, check out the VistaRoyale website here. Use the online contact form to check for availability and discounts or send them an email from the site. Mention that Jeff Berger's SXM Website suggested it! (Updated 8/1/2016.) Great place.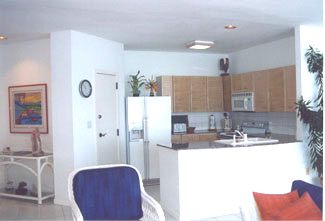 Above: A view of the VistaRoyale kitchen.
---
Villa Seawatch:
VILLA SEAWATCH is in the prestigious gated community of Dawn Beach Estates, on the coast immediately south of Dawn Beach. With three bedrooms, it affords outstanding privacy plus breathtaking views from every room. The place is gorgeous inside and out, one of our top villa choices on the island. Located at the top of a cliff overlooking the tropical Atlantic and St. Barths. Very private pool. Virtually constant tradewinds. Owners Ron and Cherie Santasiero have done a marvelous job here. Contact them at caribbeanluxuryvillas@verizon.net . Updated 8/2016. Highly recommended. Many pictures are here.
---
Want a Quiet, Secluded Condo in Oyster Pond?
Rustic, delightful, and totally relaxing!
---
More Sources of Villa Accommodations
THE VILLALADY is a great resource with many fine properties. There are two superb villas we've stayed at through her... Casa Boco and Jubelibra. See them both in her site, here.
Marilyn Pulito of "Villas in Paradise" also offers villa rentals. See her site here. "Villas in Paradise" is an Everything St. Maarten Sponsor; see her link, top of this page. Great properties.
VILLA JOURNEYS is a fine source for information and reservations on villas not only in St. Maarten, but on many other Caribbean islands. To see what they offer in SXM, click here. Your contacts at Four Seasons are Linda and Nicole. We have often stayed at the Simpson Bay Villas. This small, gated complex is well-maintained, very attractive, quiet, has all the amenities you could ever want, and is on a very peaceful stretch of Simpson Bay Beach. Check it out.
---
Villas By Location
Pelican Key (Simpson Bay, off Billy Folly Road beyond Atrium, Flamingo, Pelican, and La Vista Resorts)
JUBELIBRA is an excellent choice, by Bobby Valins. We mentioned her in the prior section. This is in Pelican Cove, a very lovely gated community. All of the villas Bobby represents there have their own private pool and are very well kept. Privacy is excellent and safety is a plus. No car break ins or petty theft, Bobby reports. Serabella at Pelican Cove and L'Horizon at Pelican Cove and Pelican Cove # 10 are additional choices from Bobby.
"CORALSHORE" OCEAN-FRONT VILLA Beautiful two-bedroom, two-bath affordable oceanfront villa with pool, daily maid service, tropical gardens, and an on-site manager. Faces west for beautiful sunsets every single night. Very beautiful, serene location. See www.coralshore.com for photos, rates, etc. Contact Anne Monk at 1-256-852-3769 or email her at anne.monk@coralshore.com. We've stayed often and love it.
---
Dawn Beach / Oyster Pond Area
See Villa Seawatch listed above.
EMERALD COVE is a sponsor: Click the link, above. Delightfully quiet, rustic location on the cove at Oyster pond, opposite side of the sailing basin from Oyster Bay Beach Resort. When we visited, it felt like New Hampshire, except it was 82 degrees in January and pelicans were diving for lunch on the water nearby. An absolutely perfect place for a quiet getaway. Comfortable; close to many restaurants and to Orient Beach.
SUNRISE ESTATE is at Dawn Beach / Oyster Pond on the island's east coast. The main house has 4 bedrooms, 4 full bathrooms, and 2 half baths, marble floors, and all imaginable amenities. Each bedroom has a private bath and air conditioning. Three of the four bedrooms have their own entrances, allowing for total privacy when traveling with friends. The separate guesthouse hosts a large studio apartment, fully equipped with a bathroom, kitchen, sleeping area, living room / dining room combo, and private patio and balcony. The large pool and deck overlook Oyster Pond and Dawn Beach with some of the most breathtaking views in the Caribbean. This property offers privacy and seclusion, yet a short walk across the street takes you to Dawn Beach, one of the best beaches for snorkeling. There are also bars, restaurants, and a small market within walking distance. Located on the Dutch side at Oyster Pond Estates, one of the most prestigious areas in the Caribbean. Rent this magnificent villa for your private enjoyment. Contact dg_williamson@hotmail.com or call 508-303-8000 ext 20. See it at www.SunriseEstate.com . Email: info@SunriseEstate.com
French Lowlands
MAISON DE MIKI is located in the ultra upscale French lowlands area. On the hillside of Mount Rouge, it offers unsurpassed views of the island and the sea from almost every room. There is a large living and dining area decorated with unique furnishings, a free-standing wet bar, and a fully equipped kitchen. Also on the first floor is a TV room with flat screen plasma TV, DVD, and VCR. A new upstairs bedroom has gorgeous teak furnishings, a marble bath, and memorable water views. One of the two master bedroom suites has king-size four poster teak bed and teak accent furnishings. There is a balcony and private bath as well. On the second floor is an additional master suite furnished in hardwoods and iron, and a large private bath. There is also one smaller bedroom, with private bath. There's an outdoor covered galley with dining for eight and nearby, and a free-form pool. Tell Kathie we sent you; email her for more info.
---

Orient Beach / Orient Bay
VILLA BELFIORE, at #34 Parc de la Baie Orientale, is just 400 yards from Orient Beach on the island's Northeast coast. It has a full kitchen, large living and dining room, three bedrooms / three baths, plus a pool and hot tub. It's located in the Parc de la Baie Orientale gated community near Esmeralda Resort, 1/4-mile walk from Orient Beach and a five-minute drive to Grand Case. Daily maid service and airport transfers. Check out their website. Phone in USA 973-770-1485, or email them.
More hotel choices are below.
---
RENT A TIMESHARE CONDO INEXPENSIVELY DIRECTLY FROM ITS OWNER --
CLICK THE LINK IN THE LEFT COLUMN FOR OUR
"TIMESHARE CONDOS FOR RENT OR SALE" PAGE!
---
Click "Low Airfares and Island Wide Discounts" in our masthead to learn more about SXM Discounts through JMB Website Supporters!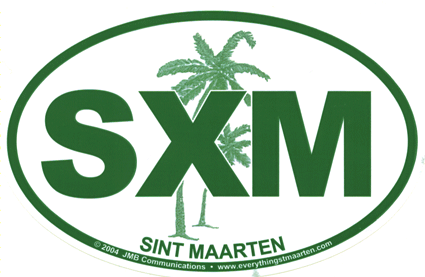 ---
MEMBERS: FOR LOW FARES AND OVER 260 DINING, SHOPPING, SAILING,
and other DISCOUNTS ACROSS THE ISLAND
visit www.everythingsxm.com/secret
Not a Member? Click the page curl, top right of this page, to learn more
---

More Hotel / Condo Choices...
TIMESHARE OWNERS OR EXCHANGERS considering a visit to any SXM timeshare resort (Pelican, La Vista, Sea Palace, Divi Little Bay, Royal Islander, Royal Palm, Atrium, Caravanserai, Flamingo, and others) might need a timeshare calendar to check on when specific timeshare weeks fall in the years ahead. We now have a Timeshare Calendar, thanks to Royal Resorts. Some resort calendars differ, so check with your resort; but our understanding is that the dates you'll see here apply to most resorts.

On a hillside overlooking beautiful DAWN BEACH you'll find Princess Heights Condominiums, offering a gorgeous panorama of the Eastern and Southeastern horizon looking toward St. Barts. Visit their site. Email access is available online. Tell GM Emil Lee we say hello.

If you own timeshare at Royal Palm or at Flamingo, two Diamond Resorts properties, you should get on Bruce Cameron's owners list, which provides current resort information. Bruce's email address is dbcameron@yahoo.com.

MORE BELOW...keep reading....


---

Stay Current on Everything St. Maarten: Sign Up for Our
FREE St. Maarten Newsletter!

Sign up for our free St. Maarten newsletter for all the latest SXM news, info on how to get deals on airfare, and much more. We cover new restaurants, cruise info, hotel deals, and much more.

WE WILL NEVER SELL OR RELEASE OUR MAILING LIST TO ANYONE. How often will we mail? Usually every Monday. Just click "free newsletters" near the top of the site navigation column to the left to sign up.

IMPORTANT: Everyone who joins our free list receives a confirming email. You must "confirm" to be added to our list

(to prevent someone else from signing you up). Once confirmed, you're in!

---

American University of the Caribbean Students (and others):
Sources of Long-Term Island Rentals
The American University of the Caribbean's beautiful new headquarters campus in Cupecoy attracts many American medical students. We're frequently asked where they can stay. Here are some answers. We appreciate Ric Hetzel's help in putting this together for us:
1. Contact Walter Kassel at Tendal Real Estate N. V. 1-721-544-5383. Ric told us "Walter is a regular customer at our place and he does help AUC students get housing." Tendal is on the Web at tendalsxm.com. Mention Jeff Berger's SXM website.
2. There is a ReMax office on the island and they too assist students with housing. Call them at 1-721-544-4062.
3. David Mayhew manages Tradewinds Apartments next to AUC, which may be where more students stay than everyplace else put together. You can email him by clicking here.
4. The best place (and the newest) is the new apartment complex owned by "Mark," a landscaper from Detroit who spends his winters in SXM. His newest building is on the right side of Jordan Road in Cupecoy just outside the front entrance to Summit Resort. More info:
Dear AUC students,

We are taking this opportunity to introduce you to Campus Village Apartments, the preferred housing choice of the AUC students.

For those who have not had the pleasure to visit the premises, the residence is located in the Cupecoy area; 5 minutes away from the AUC and the Mullet Bay beach and golf course, 8 minutes away from the Princess Juliana International Airport and in a booming area with everyone's favorite restaurants, bars and clubs.

All units are set up identically: They all include ceiling fans and A.C. in the living room and in the bedrooms.

All one-bedroom apartments have the same surface i.e. 650 square feet, brand new and strong furniture and brand new and massive equipment selected to last long.
Four units on the ground level at the corners of the building, however, do not have a balcony and therefore are rented for USD 1,100 per month. The reminder of the 1-bedroom apartments all include a very nice balcony and therefore are for rent for USD 1,200 per month.

Looking for a two-bedroom apartment? Experience a luxury penthouse with two bedrooms, two and a half bathrooms with an incredible view from the top terrace on the lagoon, the Mullet Bay beach and golf course and even the French side. The penthouses have been built with a surface equal to three times a one bedroom apartment for a rate equal to twice the monthly rate of a one bedroom apartment (i.e. USD 2,400 per month). These units are also fully and newly equipped and furnished.

The building is also running Cable TV and DSL Internet connections. Therefore, it only takes a couple of days to get it set up from your unit.

To move in and feel comfortable right away in your apartment, we have placed the following:

-Kitchen: Wooden cabinets, electrical stove and oven, microwave, 17 cubic refrigerator, lamp, and some additional silverware, plates and glasses...
-Living room: mini bar with stools, two armchairs, a sofa, two living room table.
-Bedroom: Queen-size bed, and closet, bedside table, sheets, pillows, lamp.

All windows and sliding doors are equipped with blinds and all units include an individual washer and dryer.

What more could we tell you about Campus Village?
We are a dedicated team that is committed to the tenants to make them feel comfortable and safe where they live. We understand your need to be able to focus on studies and not worry about anything else. We always stay available for our tenants and support them to the best of our ability by creating the right atmosphere.

We will be pleased to count you as a member of our Campus Village Team.

You can contact us at campusvillage03@yahoo.com or at 1-721-552 0111 and ask for Erika or Michael. We will be delighted to answer your questions.

Till then, take care and hope to hear from you,

Campus Village Management Team.

N. B.: Prices have certainly changed since we obtained the above, a few years ago. And in summer, 2011, DeVry took over AUC; that may also mean changes. -Ed.

Updated 8/1/16