Heavily Updated 7/10/19



Click for the latest SXM weather forecast
Some of St. Maarten's beaches change shape and size according to the whims of weather. They range from places with lots of surf to quiet, nearly deserted coves. This page tells you about every significant SXM beach -- including those that are clothing optional.
***NOTES***
Hurricane Irma played havoc with most beaches in September, 2017. But Mother Nature's better side shown quickly, and today
all beaches are in perfect shape -- clearn, warm, gorgeous, and welcoming. This page is a complete update.

Which Side: Before each beach, we've placed an F or a D -- F tells you the beach is on the French side, D for Dutch

Windward or Leeward: We've also placed a W (for windward side -- windier) or a L (for leeward side -- less windy and hotter)
Sargassum Seaweed: See the bottom of this page
Also...this page contains some topless photography. If you may be offended, don't look -- and don't go to SXM's clothing optional beaches.
First, one important recommendation:
---
JMB Strongly Recommends SKYMED Emergency Medical Evacuation Protection ...Just In Case.
Click the banner to learn more:

Got SkyMed questions? Call Jeff weekdays Eastern Time
at 508-747-8281 (SkyMed only please).
---
Detailed Info on St. Martin / St. Maarten Beaches
Code:
F=French Side
D=Dutch Side
W=Windward (East) Side
L=Leeward (West) Side
Check current conditions through these three SXM beach cams:

Club Orient Beach Cam

Sunset Bar & Grill Webcam at Maho Beach (SXM Airport)

Great Bay Beach Cam (SXM Harbor)

Windward side beaches face easterly tradewinds and tend to be windier. Leeward side beaches are less windy but hotter. Here are our reviews:
F, W Orient Beach, the largest and most popular on the island, was loaded with beach bars, restaurants, shops, and watersports facilities offering parasailing and other watersports. All of that was obliterated when Irma struck in September, 2017, but now (6/18) the Club Orient nude beach is open (chair and umbrella rentals available) and a temporary "Perch" bar serving light food is at the Club Orient beach as well. The nude beach is open to all.
Nudity is permitted ONLY at Club Orient; topless is ok everywhere else on the beach but not in most restaurants outside Club O.
Clothing optional sunbathers should be aware that "boat people" (cruise ship tourists) are sometimes still ferried here by industrious cab drivers. They tend to gawk and occasionally take pictures, but naturists at Club Orient often stop them.
Besides the Club Orient website, there is also an Orient Beach website. Before you visit either site remember that they depict clothing optional bathing; if you're offended, don't go. You're well advised not to go there at work.
Besides being the home to the naturist Club Orient, the Southern end of Orient Beach had (and will again have) a number of small shops. In the picture at the right, Tracy (more on Tracy and Mike is below) shops at one of them.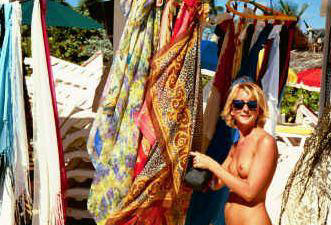 Above -- Tracy shopping at Orient Beach. More on Tracy & Mike is below
D, L Cupecoy, tied for the title of our favorite St. Maarten/St. Martin beach along with Happy Bay, is actually a string of beaches at the island's westernmost corner. Sandstone cliffs and caves are the backdrop for this unusual beach, one of the world's most beautiful. Its steep drop-off, which changes shape almost daily, makes Cupecoy hazardous for young children. The sands shift constantly -- there may be room for 300 people one day, and barely room for 10 the next.
Cupecoy is mostly clothing optional. In early Summer, 2011, there was some police harassment here, but we've heard of nothing significant since.
Best car access: Go to the marked entrance to "Dany Beach Bar". The small fee you pay there helps compensate the fee Dany pays to the property owner. Dany offers umbrella and lounge rantals, drinks, and great "Lolo" type food. He and John are great people and have been doing this for well over 20 years.
For the latest updates on all beaches, subscribe to our free St. Maarten and St. Martin Weekly News which provides updates on the island every week.
Many more beach descriptions follow a few pictures: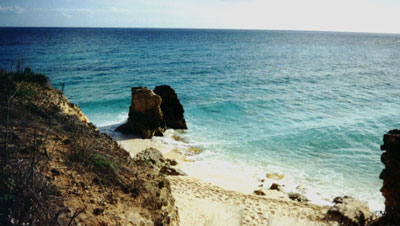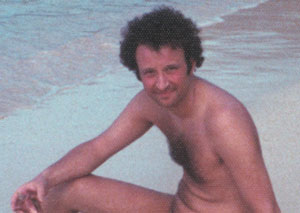 TOP: The famous "Cupecoy Monolith" at midbeach. It has been disintegrating the last several years due to battering by storms. This picture was taken several years ago and the monolith now shows a ton of wear; it could all but disappear soon. ABOVE: A pre-beard, bad-hair picture of me at a nude beach in St. Barths. That's a live young conch in my hand; I threw it back.
BELOW: Looking East from the Western portion of the beach, with the boulder in the distance. Both photos © Maryann Barvinski, reprinted with permission.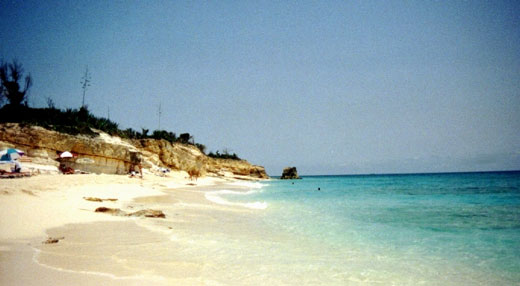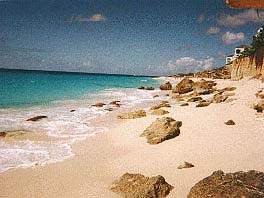 The far Eastern portion of Cupecoy, looking West. Boulder is out of sight in the distance.
Back to the beach description in a minute.... first:
Like Cupecoy and/or Orient? Interested in learning more about clothing optional beaches & clothing optional recreation, or trying it elsewhere?
Many visitors to SXM fall in love with Orient Beach or Cupecoy and look forward to trying clothing optional recreation elsewhere. Two suggestions:
Check out naturism / clothing optional recreation thoughts and ideas at the Naturist Society website. They are the foremost proponents of clothing optional recreation and they publish the World Guide to Nude Beaches. Joining the Society gives you a subscription to their magazine and access to a host of other useful information about beach and other sites worldwide.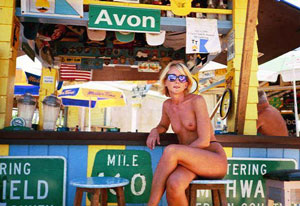 Tracy getting an all-over tan outside Andy & Cheryl's, one of the bar/restaurants on Orient Beach, before reconstruction in 2015 and demolition by Irma in 2017. Images are copyrighted by Tracy & Mike and are reprinted with permission.
---
D, L Mullet Beach, the very popular strand at Mullet Bay is where the waves and the surfers are. Although it's on the Dutch side, you'll see many French families here especially on weekends. Topless. Surf can be rough.
F, L Prune Beach, also known as Plum Bay, is a sweet, intimate, crescent-shaped strand frequented by an eclectic crowd including occasional surfers, despite rocks among the breakers. Topless, with some nudity on the southern end despite the French entry sign to the contrary.
F, L Rouge Beach, one of the island's longest and most beautiful, is a must. Like all beaches on the French side, tops are optional here. The more southerly end of the beach is de facto clothing optional. Great snorkeling at the northern end, but beware of the waves/currents.
F, L Long Beach, with the "rich and famous" Hotel La Samanna at its southern end, gives you a great spot for relaxing. There's little shade and few breezes here, so this can be the hottest beach on the island. We've never seen it crowded. The far Northern/Western end is de facto clothing optional (despite signs to the contrary and occasional gendarme appearances) and it's highly secluded for those who prefer privacy. Part of the beach is rocky near shore and there may be a fairly steep drop-off.
F, W Le Galion Beach, also known as Embouchure or Coconut Grove, on the site of the long-defunct Le Galion Hotel, is the island's best windsurfing beach and is ideal for children because of the usually shallow, calm waters near shore. Windsurfing rentals had been available before Irma and should be returning soon, if they haven't already. Always keep an eye on your kids any time they're near water - even if it's only two inches deep. Le Galion is topless but nudity is forbidden. NOTE: We've seen sea urchins here, little black spherical objects with spines sticking out of them. Do NOT step on them...it will wreck your vacation.
More beach info is below.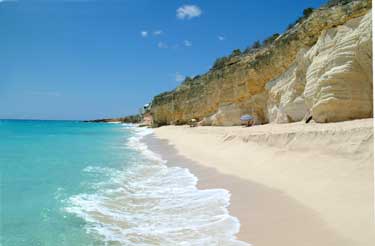 Top is Cupecoy. Tour the island and you'll find lots of great beaches. These photos courtesy of SXM Tourism.
Much more beach info follows....
Want more than 300 discounts across SXM / St. Maarten / St. Martin?
Learn more about JMB Website Supporters membership:

MUCH MORE BEACH INFO IS BELOW...BUT FIRST PLEASE READ THIS IMPORTANT MESSAGE:
Why Join JMB Website Supporters?
Get Great Deals on Airfare Year-Round, Dozens of Dining Discounts,
Deep Discounts on Car Rentals, Phone Calls Home, and Hotel and Timeshare Stays,
More SXM Info & Lots of Freebies for just $59 plus low-cost annual renewals.
Thousands of people have joined JMB Website Supporters since it was founded in 2002. Here's some of what they're getting:
SUPER LOW-COST AIRFARES: We monitor airfares to St. Maarten every day from more than 100 cities in the U. S., Canada, and Europe, and whenever we hear about good airfare sales --scheduled or charter-- we send JMB Website Supporters members Airfare Bulletins with all the details, so they can get the travel dates and seats they want. Sometimes we unearth exceptionally low fares, after a lot of digging -- like about $249 for Winter round-trips to SXM from several U. S. cities (offered in 2010), and other low fares from many cities coast-to-coast. Low airfares alone are worth the price of subscribing!

LOTS MORE BENEFITS:
Over 300 Benefits that save you serious money on dining, shopping, and lots of other SXM activities
Free members-only lagoon sunset cruises every Sunday
LOW FARES from about 100 cities in the USA and Canada.
LOW-COST SXM (St. Maarten) AIR/HOTEL PACKAGES: You will not find lower package prices anywhere. We beat Travelocity, Expedia, and everybody else every day.
RENT OR SELL YOUR SXM TIMESHARE FOR FREE through our weekly newsletters (now over 240,000 readers) and online (over four million visitors) -- no charge, ever. Our audience goes to the island and needs accommodations, making our "for rent/sale" listings especially effective. (Use of this service requires membership renewals to be current.)
DISCOUNTED PLACES TO STAY: We give you a source for rooms at top hotels and timeshares for $449 per week, per room (not per person), far less than you'll pay anywhere else. That's even less than most timeshare maintenance fees.
CAR RENTAL DISCOUNTS: Members-only discounts give you $15 off the regular non-discounted rack rate of the island's best car rental companies. Available year-round.
HEAVILY DISCOUNTED EMERGENCY MEDICAL EVACUATION PROTECTION: Should you become critically ill or injured and require an emergency air ambulance home, the cost is usually over $45,000 payable in cash, in advance. Our members get huge discounts: short money for real peace-of-mind.
JOIN JMB WEBSITE SUPPORTERS ONLINE RIGHT NOW
WITH YOUR CREDIT CARD USING PayPal®
Attention Users of Hotmail or of Mailwiper, or Other Spam Prevention Programs: Hotmail and various spam prevention programs including Mailwiper reply to JMB mailings and ask us to take certain actions for our mail to be accepted by your mail program. With nearly 225,000 readers of our various newsletters (free and paid), we are inundated with these requests and we do not have the time or the staff to answer them. Therefore, to insure that you receive all our mailings, please enter the following email addresses into your programs as "acceptable" addresses. Please note that the address you enter should contain no spaces within it. We added spaces here to prevent email address harvesting programs from gathering and using the following addresses: Jeff1620 @jmbcommunications.com; susan @jmbcommunications.com; accounts @jmbcommunications.com; tracy @jmbcommunications.com; and jeff @jmbcommunications.com.
---
NOW MORE BEACH LISTINGS....
D, L Pelican Beach / Flamingo Beach, at the Simpson Bay (formerly Pelican) Resort and Flamingo Resort complex, remains very popular. Manageable surf. Beach chairs are for Simpson Bay or Flamingo timeshare owners. The view of ocean sunsets here can be gorgeous -- and you can watch the pelicans dive for dinner just offshore. Simpson Bay Resort has reopened. Current info on the status of island resorts is on our Everything SXM Facebook Site.
Little geckos are common. To egrets, they taste like chicken. Photo courtesy of Divi Resorts.
D, L Kim Sha Beach, between Atrium and Royal Palm Resorts, Simpson Bay (actually part of Simpson Bay Beach), is very calm and popular. There are sometimes sandcastle building contests here. Popular with local radio stations and organizations for outings. Light surf, fine white sand. Restaurants nearby including Buccaneer Beach Bar. Easy parking.
D, L Simpson Bay Beach rings Simpson Bay, and on it you'll find resorts like Mary's Boon and Horny Toad, which are described on our Where to Stay page (see link at left).
D, L (but fairly breezy) Maho Beach, at the southern end of the runway of Princess Juliana SXM Airport, is an almost equally attractive strand, as long as you don't mind the widebody jets approaching the airport only about 50 feet (or lower) above your head. Beware of jet blast, blowing sand, flying belongings, and occasionally a blown-over car. If you want serenity, this is NOT the place. DON'T stand at the fence to watch the planes take off; you're liable to get eyefuls of gravel. In fact, anywhere on the beach, close your eyes as planes go overhead and keep them closed until the vortex ends. Some people like Maho. I like it only from Sunset Bar, next door. Note: Sunset offers free drinks to women who go topless. This is also a great place to see sunsets (hence the bar's name).
More below...
---
Stay Current on Everything That's Happening on St. Maarten: Join Our FREE SXM Mailing List!
Join our free mailing list for all the latest SXM news, info on how to get deals on airfare, and much more. We cover new restaurants, cruise info, hotel deals, and much more. WE WILL NEVER SELL OR RELEASE OUR MAILING LIST TO ANYONE. How often will we mail? Usually every Monday. Click "Free St. Maarten / St. Martin Newsletters," the third link, left.
IMPORTANT -- IF YOU JUST SIGNED UP: Everyone who joins our free list receives a confirming email. You must "confirm" to be added to our list
(to prevent someone else from signing you up). Once confirmed, you're in.
---
D, W (not too windy) Great Bay Beach, which encompasses the Philipsburg waterfront, is crystal-clear, huge, and inviting. When you get tired of shopping, you can always relax on this mammoth downtown beach. (If you've not visited Great Bay in a a decade or so, prepare for a pleasant shock. Sand dredged for the cruise ship terminal has been deposited here; it's a wide, natural, very popular white-sand beach, very convenient especially for cruise ship passengers.) Shelling is good near the center of town beside the cruise ship shuttle dock.
D, W Dawn Beach is home to the Westin Resort (southern end, closed since Irma) as well as Oyster Bay Beach Resort (northern end, reopened 6/18). Topless. NOTE: We've seen sea urchins here, little black spherical objects with spines sticking out of them. Do NOT step on them...it will wreck your vacation. Note: This beach can be hit hard by Sargassum Seaweed.
Dawn Beach has the best beach bar of all: the award-winning Mr. Busby's. The bad news: demolished by Irma. Details on all the restaurants now open (there are many dozens) is on our Everything SXM Facebook Site, and you can click "Restaurants" on this page for more info.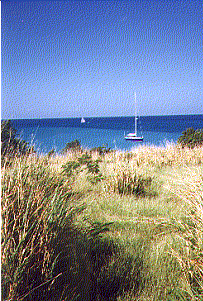 The walk from Friars Bay to Happy Bay takes you through virgin St. Martin countryside and gives you unforgettable views like this. Happy Bay is effectively clothing optional; Friars is tops optional. There is a beautiful sandy beach; this shot was from a hill between Friars and Happy Bay.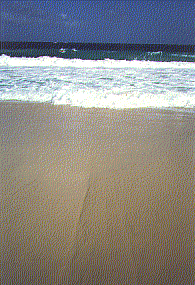 Feel your feet caressed by the water here at Guana Bay? C'mon in! The water's warm!
F, Northern side, not particularly windy (usually) Anse Marcel, at the SECRETS Resort (formerly Riu Palace and formerly Radisson St. Martin) Resort is a very pleasant, usually quiet beach, popular with French tourists.
F, L Friars Bay, not far north of Marigot, is a gorgeous, peaceful, family-oriented beach with neat refreshment stands and facilities. Behind it is a muddy lagoon with egrets and other local waterfowl, great for photographers. Good shelling here, much of the time. Relatively light surf but watch your kids -- there is a drop off. Topless.
F, L Happy Bay, just north of Friars, is one of the world's most breathtaking beaches, all the more attractive because of its relative inaccessibility. To get there, take a 10-minute walk up the hill and down a well-worn path through the underbrush just north of the last refreshment stand at Friar's Bay. Bring your camera. Happy Bay is also de facto clothing optional. There is another Danny here providing snacks.
D, W Guana Bay, just north of Philipsburg down Guana Bay Road, is on the windward side of the island, which can be breezy with blowing sand. But it's a great place for solace, since 15 people on this long, wide beach constitutes a busy day. Guana Bay is topless. "Boogie Boards" are often used here. Two negatives: pit bulls from nearby homes occasionally wander the beach, and there can be a strong undertow / rip current, so never swim here alone. And parking is not at all easy. Sargassum seaweed can be an issue here at times.
SNORKELING is great at Orient and at Pinel Island, available by ferry not far from Orient. Ask the Activities Desk at your resort for details.
Another great spot is off the rocky beach near the French Side dump, which is north of where you get the Pinel Island ferry. Before reaching the ferry dock, take a left before the school (toward Anse Marcel / the Radisson St. Martin), then turn right immediately after the school and follow the dirt road toward the dump. Bring a friend. The water can be rough.
SEAWEED; WHERE TO GET UPDATES ON BEACH CONDITIONS

Long story short, seaweed from the Sargasso Sea well north of the Leeward and Windward islands has been washing ashore at eastern-facing beaches on dozens of Caribbean islands in the central and Northern Caribbean for the last several years, thanks to a (hopefully temporary) southern deviation in the Gulf stream. Leeward facing beaches are hardly affected at all and authorities are gathering the seaweed and taking it away every morning. The island's most popular beach is Orient Beach, the southern end of which is clothing optional. Thanks to a reef and a fastidious grounds grew, that southern "Club Orient" section remains pristine every day. Conditions change; we update the seaweed situation frequently in SXM Weekly News, which is free. It is the most respected source of tourist-oriented St. Maarten / St. Martin news and info. Subscribe here. Again, it's free.
Heavily Updated 7/10/19.