St. Maarten / St. Martin Restaurants, Beach Bars,
and More (including all dining)
This Page Heavily Updated 8/18/2011
PRINT THIS PAGE AND TAKE IT ON YOUR TRIP (see copyright, page bottom)
USE IT AS A GUIDE TO RECOMMENDED RESTAURANTS IN ST. MAARTEN AND ST. MARTIN
ALSO USE OUR ST MAARTEN DINING COUPONS ON THIS PAGE
GET MANY MORE DINING & OTHER DISCOUNTS ACROSS SXM IF YOU'RE A JMB WEBSITE SUPPORTERS MEMBER
More Restaurants & More photos coming soon . . . and check our "Bars" Page!
RESTAURANT RECOMMENDATION LINKS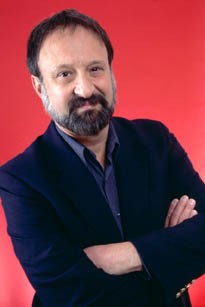 Site owner Jeff Berger, in a rare moment away from his computer or St. Maarten's beaches & restaurants.
Important:
No restaurant can get listed or recommended here by paying us, ever. If we like restaurants, they get listed. If we don't, they don't. If a restaurant slips in quality, off it goes. We list preferred restaurants here, not all restaurants (the island has about 400.) That has been our policy since 1995 when this site was launched.

Check this page frequently; it is updated often

If you're a JMB Website Supporters member, you'll find many dining coupons for free wine, beer, and many dining discounts in the Member Benefits List/Welcome Letter at www.everythingssxm.com/secret, the "Secret" Website for members only. At the writing we have about 100 benefits, many of them dining discounts. If you're not a member, click the "page curl," top right, for info.

This page represents the personal opinions of its writers. Some other perfectly good restaurants may not be listed simply because we don't prefer them. We also do not normally bad-mouth restaurants; those that we don't like we usually don't mention at all.
Intro to the Culinary Side of SXM:
Of all the tropical islands in the world, none is known for its culinary expertise like St. Maarten / St. Martin. The island is a magnet for innovative and creative chefs who offer world class quality, ambiance, and service.
This delightfully half-Dutch, half-French island has over
four hundred
restaurants offering a kaleidoscopic array of cuisines from the world over -- French, American, Caribbean, Tapas, Japanese, Creole, Chinese, Indian, African, vegetarian, steak houses, seafood havens, and many more. There are beach bars, casual dining places, great burger joints, gourmet dining at reasonable prices, and some gourmet dining at "rich and famous" pricing.
Regardless of whether you choose St. Maarten Dutch Side restaurants, St. Martin French Side restaurants, Grand Case restaurants, Cupecoy restaurants at Atlantis Casino, Philipsburg restaurants, Simpson Bay restaurants, or Dawn Beach restaurants, you'll quickly get the point: great dining abounds on St. Maarten and St. Martin.
There was a time when most of the island's most renowned restaurants were in Grand Case, on the northwest coast of French St. Martin. They are still there and they're as incredible as ever, but during the last several years they've been getting huge competition from the Dutch Side, particularly in the Cupecoy and Simpson Bay areas, and from Dawn Beach / Oyster Pond. In fact, some of the top chefs / restaurant owners from Grand Case now have restaurants on the Dutch Side. You'll still want to have dinners in Grand Case, but plan to explore Dutch Side restaurants as well. You will not be disappointed.
This page is constantly updated, so bookmark us and come back soon. You may find us dining at the next table -- so please say hi. And *ALWAYS* tell the restaurateur you read about them on our site. This page was very heavily updated 8/18/2011.
Some restaurant owners have given us virtual coupons for you: print out the information on selected restaurants and you'll get something special with your dinner.
If you're a JMB Website Supporters member, you're entitled to reduced-cost access to buy-one, get-one free dinners or other benefits at many St. Maarten and St. Martin Restaurants. See the Welcome Letter / Membership Benefits List on our "secret site" for details. If you're curious about JMB Website Supporters, click for info. There are now about 100 benefits, many of them restaurant discounts.
---
If you've never been to St. Maarten, prepare to get hungry...
...and, if you're thinking about getting engaged or married in St. Maarten, you'll be especially interested in our information about that, later in this section... Phone numbers are here as well.
This Restaurant Revue is mainly focused on places for great dinners, but dinners aren't all you'll have so let's look at breakfasts first...
Get a map when you arrive (there are free ones showing main roads available at the airport and most hotels) or pick up one of Michal Kasprowski's heavily detailed SXM road maps. Michal's map is 34 x 40 and printed on heavy paper suitable for framing. It not only includes all island roads, it also has hiking trails and the island's best diving spots. You can get one before you leave home -- just allow a few weeks; order it from the Member Benefits List / Welcome Letter on our secret website, www.everythingsxm.com/secret. Sorry, we sell maps only to JMB Website Supporters members.
Caribbean Ground Rules:
Reservations: It is unfair to make reservations and not show up. If you can't go, be considerate and cancel.
About your bill: In the Caribbean, it's considered bad manners for wait staff to present a bill without being asked. When you're ready, ask; otherwise you'll just wait.
Service Charges usually are not tips. They are often shared by the whole staff. Tips are always appreciated by your server.
Note: August, September, and October are the quietest tourism months in St. Maarten/St. Martin. Some restaurants are closed for several weeks that time of year. Call for reservations and to be sure the restaurant is open when you visit; early evening is the best time to do call.
---
Our top choices for breakfasts:
Mr. Busby's Beach Bar on Dawn Beach in Oyster Pond, immediately next door to Oyster Bay Beach Resort, is our favorite place for breakfast on the entire island. The daytime view, for breakfast and lunch, is spectacular. At dinner, the ambiance becomes more intimate and romantic, as Busby's morphs into "Daniel's By The Sea," the reincarnation of the "Da Livio" restaurant which Busby's owner Daniel Jurczenko ran for 10 years. Mr. Busby's serves breakfast and lunch, then at night, Daniel's serves truly fine dinners -- mostly Italian but also fresh lobster. They are multi-year winners of the prestigious Gault Millau Award as the island's best beach bar. Make sure they're on your list for all three meals. Outstanding. (Busby's poached eggs are excellent.)
The View restaurant at Summit Resort is a wonderful new addition to the Cupecoy area. Driving from Mullet Bay toward Ocean Club and Sapphire (toward the French Side), you'll find a sharp right turn at the top of the hill after Atlantis Casino. Turn down that road and a few hundred yards straight ahead (after a few speed bumps) you'll find Summit Resort's gated entrance. Tell the guard you're going to the View restaurant. "The View" is absolutely extraordinary; you'll understand that on arrival. Breakfasts and lunches are hot and delicious (or cold if that's what they're supposed to be). Prices are excellent. Bring your camera. Great lunch specials, too. If you're a Tutta Pasta fan, you'll find Patricia here most days.
Andy and Cheryl's near the southern end of Orient Beach next to Pedro's has big, fantastic, and reasonably priced breakfasts. Blueberry pancakes are a specialty. They used to occasionally have "everything" bagels imported from Brooklyn and Dunkin Donuts coffee, too... occasionally those bagels still show up. What they don't have yet is a website. After breakfast, pull up a beach chair and stay a while . . . they're right on the beach. A few hours later, go back for lunch. Huge menu, outstanding food. More on them is below.
Check out Sucriere in the next section (breakfast croissants, excellent pastry).
Zee Best in both Simpson Bay and Princess Port de Plaisance Resort (Dutch Side, Union Road, between Cole Bay and Marigot) also has very good breakfasts.
But enough about breakfasts. SXM is a restaurant Mecca, and we're here to tell you LOTS about them. But first...
This Emergency Medical Evacuation Membership Plan is Highly Recommended by Jeff -- Check It Out:


Best Pizza: Pizza Pasta (much more below), at the end of the little road between Casino Royale and Cheri's in the Maho district, opens for lunch and dinner and is wonderful. They have fantastic Italian dinners and great prices. Domino's is quite good too; on Tuesday's you get a "two for" deal on bigger pizzas. Read on about Pizza Pasta. (Use free Valet Parking at Casino Royale. We suggest you avoid parking in nearby, dimly lit Mullet Bay.) There's also the new Island Pizza in Dawn Beach, part of Mr. Busby's Beach Bar. Tremendous variety of luscious thin-crust pizzas available from late morning through the evening. Great stuff -- ask for their spicy oil!
Best Pastry: Go to the little Sucriere pastry restaurant near FedEx in Simpson Bay. Sucriere is a good place for French Bread and lots of reasonably priced pastry. They are also located in Marigot on the waterfront.
Best Ice Cream: Buy it in the markets -- Etna, unimaginably creamy and delicious. The "cafe" flavor is the best, we think. Another choice: go to the Carousel in Simpson Bay (huge round blue and white building near Pineapple Pete's). Italian Gelato, some of which is sugar free . . . and the island's only working Carousel.
A LITTLE REPEATED ADVICE... PRINT THIS ENTIRE PAGE and take it with you to the restaurants we've recommended for some dining you'll never forget.
Remember that our JMB Website Supporters members get discounts at restaurants across the island. Click "Low Fares / Island Wide Discounts" below the masthead for details.
If you're already a member, go here and see the Welcome Letter for all your dining benefits.
Lunches are everywhere, like breakfasts . . .our favorites are:
Mr. Busby's Beach Bar in Oyster Pond, Dutch Side; huge variety, fresh & delicious, responsive staff, amazing location (steps from the beach; beach chairs and umbrellas available.) Definitely bring your camera.

Pizza Pasta in Maho; use the free valet parking next door at Casino Royale. Great food, great consistency, big portions, reasonable prices. Say hi to Selena for us.

Linda Parker's Peg Leg Pub is at Port de Plaisance Casino off the Union Road between Marigot and Cole Bay. Great location, very spacious. Peg Leg receives many awards for excellence, all well deserved. Fierce loyalty among its patrons. It is quite the place for steaks and fish and lunchtime sandwiches. Great stuff including salads which are big enough to be entrees by themselves. Check out their mouth-watering menu. More below.

On the French Side, try Andy & Cheryl's near Club Orient on Orient Beach (more below). Note: The beach is clothing optional.

Papagayo inside Club Orient at the southern end of Orient Beach has great lunches too. Clothing optional.
About Dinner Reservations: Many SXM restaurants are small, only 8-10 tables, and some are smaller than that. Reservations are essential in high season and advisable in low season. If you can't go once you've made a reservation, please cancel it -- you'll be doing the right thing and helping the restaurant accommodate others who CAN go.
If you're thinking about getting married in St. Maarten, click here. Jean Rich is the most experienced, well-respected planner of St. Maarten destination weddings.
Dinners . . .
La Gondola in the Atlantis Casino complex at Cupecoy Beach, Dutch Side (see the map on their site) is a must for dinner. Grand Case is widely regarded as the Culinary Capital of the Caribbean, but the Dutch side - - pointedly represented by some fine-dining restaurants at Atlantis - - is no culinary slouch. The other great restaurants there are CIA graduate Dino Jagtiani's Rare and Temptation -- much more on those restaurants follows.
Several years ago, La Gondola founder Davide Foini started manufacturing pasta in a little shop in Sandy Ground, French Side, called La Raviolina, and soon found most of the island's better restaurants as his customers. Eventually he opened a tiny restaurant there, La Gondola, where he quietly served his pasta and other excellent meals to a knowing clientele.
La Gondola was quickly turning away customers, so Davide relocated his restaurant to far larger quarters in the Atlantis Casino complex. Until Fall 2004, he was still manufacturing pasta in Sandy Ground for top SXM restaurants, but since then he has made it just for La Gondola.
This place is perfection.
The surroundings, service, and the selections at La Gondola are all fabulous. The atmosphere is authentic and refined. Early in his career Davide worked at La Samanna, the ultra-luxurious French Side resort, and that training shows at La Gondola in the quality of the food, its presentation, and the servers' attentive but unobtrusive service. No matter what you pick, you will be back. For dessert we choose either the nougat ice cream "made with crunchy caramel and almonds and served on raspberry sauce." We also love their homemade banana, coconut, vanilla, and pistachio ice creams.
Wait till you try the food: From appetizers to main courses to all their incredibly decadent desserts, La Gondola really knows its stuff. Detailed reports on our frequent visits to La Gondola are in our weekly St. Maarten newsletters. If you're not a Weekly News subscriber (free), use the link at the left to sign up.
Trust us: La Gondola is outstanding. Reservations strongly recommended; call 545-3938. Valet parking year-round at the side entrance of Atlantis Casino.
IZI Italian Pasta Lounge, owned by La Gondola's Davide Foini, is equal in quality to La Gondola but totally different in concept. It's upbeat, bright, and energetic, and here too, most pasta is home-made. It's a place with around 400 possible dinner choices: you pick your pasta, protein, and sauce from their choices, plus appetizer and dessert. The gnocchi is outstanding and we also love the salmon. Ask for the shrimp bruschetta -- it was Ilene's suggestion last year and is now a frequent special appetizer of the day, which you can order regular, spicy, or flamethrower-spicy as Ilene gets it. (Ask Marco, the much accomplished chef who is GM here.) On our last trip to the island we visited IZI more frequently than any other restaurant. One of their dessert choices is the island's own ultra-creamy Etna ice cream. Wonderful restaurant. [JMB Members: See the Member Benefits list at www.everythingsxm.com/secret for something special for members only from IZI.]
Le Pressoir is easily the best French restaurant on the island. Built inside a 150 year-old home in Grand Case, French Side, this is truly fine dining. The understated but beautiful Caribbean decor and soft music bring instant relaxation . . . and then your senses take over as you see the exquisite presentation, savor the amazing aromas, and enjoy those delightful flavors. Some of the things Le Pressoir offers are available exclusively there . . . like a certain type of fish from Franck and Melanie's native Brittany; ask about it.
No matter what you order, you won't be disappointed. After dinner, the only thing you'll crave is a repeat visit. We've been there on successive nights and seen some of the same folks. "We couldn't go anywhere else after a meal here," one couple from the Midwest told us. It's that good. Mention us when you visit. [JMB Members: See the Member Benefits list at www.everythingsxm.com/secret for something special for members only from Le Pressoir.]
Spiga is around the corner from Grand Case Beach Club and just off the far Northern end of Boulevard de Grand Case, French Side. Owned by Lara and Ciro Russo; Lara is the daughter of Livio, founder and retired former owner of Da Livio on Front Street, Philipsburg.
Lara and Ciro's extensive culinary experience shows in their preparation. Spiga is truly outstanding -- in our opinion, one of the island's top restaurants. Reservations are a must in season. Located in a rebuilt early 1900s Creole-style building, Spiga has an extensive menu of elegantly prepared, delicious entrees.
Try their Lobster Bisque. Our son-in-law, for many years a Southern California restaurateur, described it as "the best I've ever tasted."
Their lobster ravioli and their pumpkin ravioli are irresistible. See the menu here. Keep trying different things -- the menu has grown in recent years and includes a LOT of home runs. Their website shows you many of their exceptional entrees plus lots of pictures. Spiga is a must. Save room for dessert.
Please say hello to Lara and Ciro for us.... Spiga is generally closed from mid-October until early November. The Euro is the French Side currency; you do best paying cash at most Grand Case restaurants. At this writing it's one-to-one, Euros to dollars, at Spiga when you pay by cash...quite a deal.
Also in Grand Case is L'Auberge Gourmande. The gentleman in charge is Pascal, the same Pascal who knows Davide Foini (La Gondola) well. Pascal was Davide's boss when they both worked on one of Royal Caribbean's cruise ships. Davide was a waiter there years ago and it was Pascal who suggested Davide take space at Atlantis Casino when it became available.
L'Auberge Gourmande is yet another amazing restaurant. Watch especially for the unexpected little touches . . . flavors added in distinct separate morsels to your dinner. You'll understand when dining there. Again, mention us when you visit. We love it!
Many of you may remember Da Livio in Philipsburg, run very capably for 10 years by Daniel Jurczenko. Daniel a number of years ago moved the entire Da Livio staff to Dawn Beach and took over Mr. Busby's Beach Bar. Result: a tremendous selection of breakfasts and lunches at the beach all day . . . and a quick metamorphosis of the same Dawn beach restaurant at night to Daniel's By The Sea, where the seasoned Da Livio staff provides impeccable service while delivering great steaks, seafood, and fine Italian dining in the Da Livio tradition.
The Busby's / Daniel's menu is one of the most extensive on the island . . . steaks, seafood, fine Italian entrees, and great desserts. (The homemade apple pie will remind you of Grandma's.) Meanwhile, you can get a full breakfast all morning, and a super lineup of lunches mid-day. Make it a point to go to Dawn beach and check out Mr. Busby's / Daniel's, next door to Oyster Bay Beach Resort and about a half mile north of the Westin Dawn Beach. You will not be disappointed. [JMB Members: See the Member Benefits list at www.everythingsxm.com/secret for something special from Island Pizza, owned and operated by the Busby folks and as noted earlier, a great place for pizza.]
Mr. Busby's / Daniel's By The Sea is just steps from the beach,
offer dining under the palms: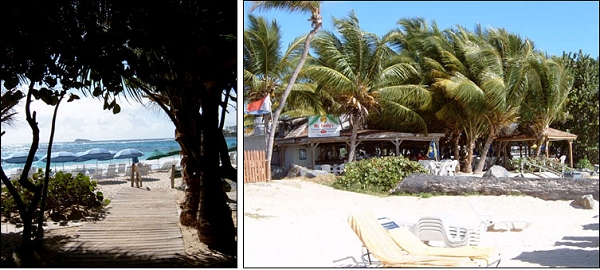 PegLeg Pub & Steakhouse relocated in 2008 to a spot to the right of the main entrance to the casino at Princess Port de Plaisance, off the Union Road between Cole Bay and Marigot. Peg Leg is an award-winning steakhouse but DON'T hold that against it: they also have great seafood, sandwiches, and you-name it. They offer fine aged, grain-fed American beef that many visitors claim is the best anywhere. Their swordfish -- our personal favorite -- is moist and delicious. Their mahi-mahi fish and chips is delicious -- and something you won't find in New England. Their lunchtime sandwiches are also big and sweet.
Linda Parker is doing a really fine job here; come in and tell her we sent you. Highly recommended.... [JMB Members: See the Member Benefits list at www.everythingsxm.com/secret for something special for members only from Peg Leg.]
The Stone Restaurant is located on the Marina Plaza at Simpson Bay Resort (formerly Pelican). Park in the gated parking off Billy Folly Road; just tell the guard you're going to Stone. Walk into the Marina building, bear left, and take the elevator down to the first floor. Then take the stairs to the waterfront shops; Stone is at your right. (The Marina building is beyond the newer Marina Residences complex.)
Seafood, meat, and vegetarian entrees are cooked and presented on polished stone tablets that rest on wood -- all in a non-smoking, air-conditioned dining room, one of few on the island, or outside on the patio facing Simpson Bay. We've thoroughly enjoyed their salmon, yellowfin tuna, and steak entrees.
Johann Roebert is in charge here; he has been on the island for years and is a former private chef on megayachts. Congenial, experienced staff and great food. The Stone is a must. [JMB Members: See the Member Benefits list at www.everythingsxm.com/secret for something special for members only from The Stone.]
Temptation and Rare are the two fine-dining restaurants at Atlantis Casino, on Cupecoy beach, that are owned by award-winning Culinary Institute of America alum and SXM-native Dino Jagtiani. Elegant presentation, true gourmet touches, and top quality are the hallmarks of everything Dino does. The restaurants' ambiance reminds us of high-class Manhattan bistros: the food is great and the atmosphere is chic / elegant. Do try both and tell Dino or Asha we recommended them to you.
Bel Mar on Billy Folly Road, Simpson Bay, Dutch Side, is near Atrium, Simpson Bay, Flamingo, and La Vista resorts; we thoroughly enjoy it. Raymond, chief honcho, and his daughter, an accomplished pastry chef, do a fine job here -- and the view over Kim Sha Beach is terrific. Their Lobster Thermidor is excellent and their Argentinean beef (El Gaucho) is legendary on the island. Unlike many restaurants, the serve both regular and smaller portions -- pick what you want. They also do not charge for sharing.
Easy parking right outside the door. Highly recommended. Tell Raymond we sent you. [JMB Members: See the Member Benefits list at www.everythingsxm.com/secret for something special for members only from Bel Mar.]
Taloula Mango's Caribbean Cafe on the boardwalk in downtown Philipsburg is a must stop either when you're shopping in town around lunchtime or for a dinner on the beach. Philipsburg has undergone a renaissance in the last few years and the St. Rose "Arcade" (not an arcade at all in the U. S. sense) is a prime reason. Taloula's is a beautiful piece of architecture, and is the prime tenant in the "arcade" along with small shops. It's near the center of town, convenient to shoppers, not far from center-of-town public parking, and it's also an easy stop for cruise passengers.
Taloula Mango's offers sandwiches, seafood, beef, and pasta, and has vegetarian entrees. They also have great drinks -- definitely put it on your list. Frequently Taloula's has live entertainment. Say hi to Norman and Su for us.
For something a bit different at lunch or breakfast, check out Andy & Cheryl's (formerly Baywatch) on Orient Beach near Pedro's and Club Orient. It's the latest bar/restaurant from Andy, who ran a hugely successful steak house in New Jersey many years ago. Evidently you can come as you are -- pictures are on the 'net of clothing optional sunbathers who stop by (doesn't happen often, so don't let that stop you). You can buy dinner to-go late in the afternoon just before they close at 4 pm; the lasagna is fabulous.)
The sandwiches are great here. The place is festooned with all kinds of New Jersey memorabilia, since Andy & Cheryl hail from NJ/NY.
Andy formerly owned Surf Club South in Grand Case, which was named one of the ten best bars in the world by Newsweek International until a hurricane blew it away. Andy's place on Orient is thriving. Call 011-590590-29-50-40. Say hi to Andy and Cheryl for us.
Pineapple Pete's in Simpson Bay is big, loud, busy, a bit noisy when there's a band playing, and it's not to be missed! The food on their huge menu is fabulous and they do the unimaginable: provide outstanding service no matter how busy they are. (Pretty incredible.) You'll see their lobster thermidor (their most popular entree, we think) marching on platters in a conga line from their kitchen. You'd expect slow service in a restaurant this busy but you will be impressed by Pete's. Fabulous place, one of our favorites. Ask for "head pineapple" Pierre by name and tell him we sent you. [JMB Members: See the Member Benefits list at www.everythingsxm.com/secret for something special for members only from Pineapple Pete.]
Jimbo's Mesquite Grill at the Yacht Club, Simpson Bay, is another long-time favorite. Though it promotes itself as Mexican, it's much more than that and offers something for everyone. Great salads, grilled specials, and lots more. The ambiance is about as Caribbean as you can get: in fact we suggested it to a friend in Hollywood who has been working on a St. Maarten oriented film production. Check it out, bring your camera, and most important of all -- come hungry. Tell Jimbo we sent you. [JMB Members: See the Member Benefits list at www.everythingsxm.com/secret for something special for members only from Jimbo's.]
By all means try The Bridge in Marigot, near the drawbridge. Outstanding Creole food which you should try while on the island. Their Friday Nights are special -- a big fixed price feast plus entertainment, and it is very inexpensive. You will really like this place AND the food...
Also on Orient Beach check out BIKINI BEACH: There are many other bar/restaurants on Orient. Our favorite is Bikini Beach. Check it out at www.bikinibeach.net.
Many more restaurant reports are in St. Maarten & St. Martin Weekly News (see the top of the page to subscribe, free). More restaurants are below, too, so please read on.
Want a Free St. Maarten "SXM" Sticker Like This For Your Car?
CLICK HERE FOR DETAILS --

you get one free with money-saving JMB Website Supporters memberships.
Parking: In Philipsburg, park in the lot behind the straw market that's behind the historic courthouse, not on Front Street. There is no parking allowed there.
Trattoria "Pizza Pasta".... Tucked deep in the alley between Casino Royale and Cheri's is one of the island's many Italian restaurants, Pizza Pasta Trattoria Italiana, which is our favorite homestyle Italian restaurant.
A smallish, unpretentious restaurant, Pizza Pasta fills up early. Owners Ilde and Dario Figarolo moved to St. Kitts a few years ago and turned the reins over to their daughter Selena, who does an extraordinary job. The atmosphere is a bit quieter, the place is spotless, attractive art is now on the walls where kids drawings used to be, service is fast, and the food is plentiful and piping hot, as it should be. It's a must. Great food!
On every visit we go to Pizza Pasta five or six times, and it never fails to satisfy.
We tend to choose both Melanzane Parmigiani, Eggplant Parm (we opted for the vegetarian sauce), and Spaghetti Bolognese, spaghetti with meatballs, which is so delightful it reminded me of "Carrie" Fargnoli, a friend of my parents who, when I was a kid, made her own pasta (long before it was chic) and the most delicious meatballs.... We also love Pizza Pasta's Chicken & Eggplant Parmigiani. The salads, soups, and of course the incredible, melt-in-your-mouth thin-crust pizza are all top-notch. Prices are very reasonable.
Make reservations, come early or wait - but the wait is worth it. Make SURE you put Trattoria Pizza Pasta next to Casino Royale in Maho on your list. Phone: 011-599-545-4034. Mention Jeff Berger's SXM website! (Updated 8/2011.)
One of the liveliest spots on the island is Cheri's Cafe in the Maho district. Cheri's has sandwiches at both lunch and dinner and a large menu of traditional dinner selections. There's nightly entertainment and dancing into the wee hours. If you just want to sit at the bar, slowly sip on a Pina Colada and people-watch; nobody will hassle you.
Johnny B Under de Tree --- Famous "under the tree" restaurant perhaps 100 yards north (toward Marigot) of the Cay Hill road roundabout in Cole Bay. Tender baby back ribs grilled for crispiness, great chicken, traditional beans and rice sides. Give it a shot -- you won't forget it. Local fresh-grilled lobsters, too. (This is what they call a lolo, but "Johnny" is a world-class chef. His restaurant just happens to be located under a huge tree.)
Poulet d'Orleans is that near legendary chicken restaurant on the road from the Dutch side to Orient. It's on a hill with a chicken out front. Find it during the day. It's in a small Creole house; eat on the porch or inside. Chicken is served with BBQ, peanut, or Creole sauce. If you're not a chicken person there's a full menu, plus good coffee. Not long ago it was featured on the Food Network.
Don't forget the nightly street vendors (LOLOs) in both Grand Case (Talk of the Town) and Marigot. They'll grill lobster and chicken over an open flame for you... Treat yourself to it at least once. The most famous of the lolos is Johnny B's Under de Tree, Cole Bay, Dutch side, discussed above. Johnny was a five-star hotel chef until he decided one day to do his own thing.
You'd need a good couple of weeks at least to sample some of the best Grand Case restaurants: Le Pressoir, L'Auberge Gourmande, Le Tastevin, and Il Nettuno are all very fine restaurants.
Subscribe free to our St. Maarten and St. Martin Weekly News (see link, left) for reviews almost every week of many fine SXM restaurants.
Get Married or Renew Your Vows in St. Maarten!
Roundup of St. Martin / St. Maarten Restaurant Websites
Here's a quick list of several websites we did for SXM Restaurants and other businesses of note. If YOUR business could use a website, see http://www.websitesthatwork.info and contact us. (JMB Communications is Massachusetts-based and most of our clients are in the US.) Mention Jeff Berger's St. Maarten Website when you visit these and other restaurants mentioned on this page.
These are in no special order: